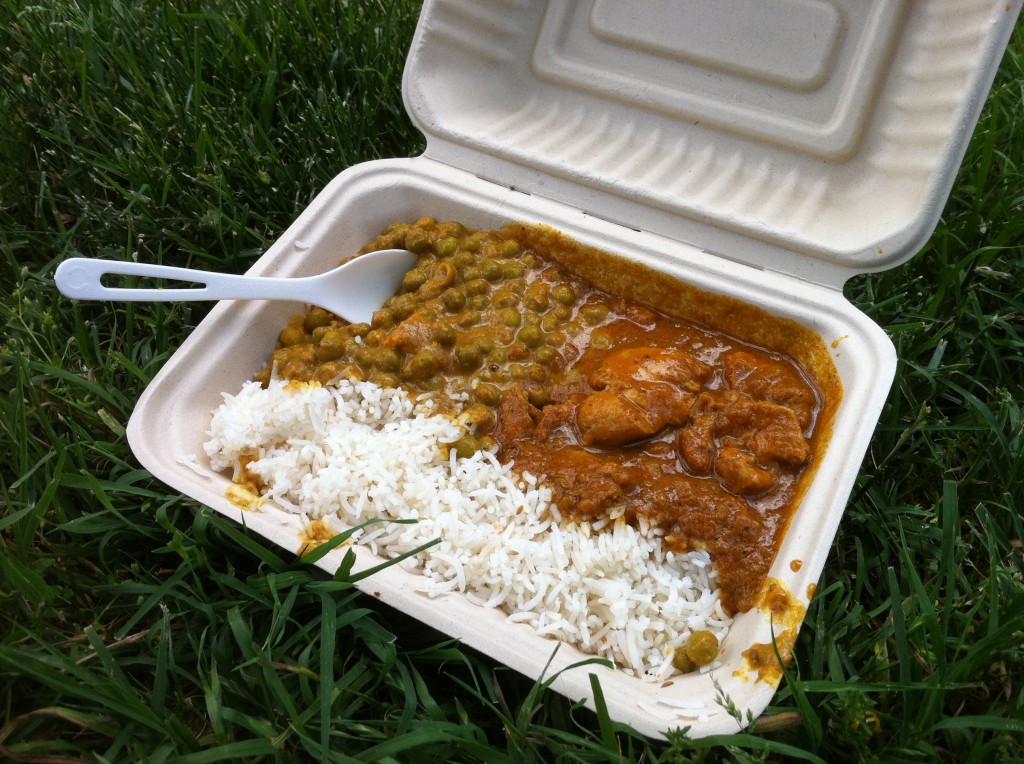 Location: fojol bros. of Merlindia
Meal: Chicken curry and masala peas and cheese on a bed of basmati rice
Cost: $7
Historically, one of the annoying things about working in downtown DC is that a decision on where to go for lunch is not an easy one. Good food often costs too much to eat regularly, and the not-so-great food costs more than it should (though there are a few exceptions). Bucking that trend, though, is the recent influx of food trucks serving good food at a reasonable price.

As I've said before I'm a fan of Indian cuisine, and fojol bros. of Merlindia fills that craving nicely. The menu is by necessity limited, but fojol bros. makes up for the small number of choices by providing a quality mean. On my last occasion to dine with them I grabbed a "Pick 2" consisting of chicken curry and masala peas and cheese. The curry had a nice flavor and was spiced just about right. And the masala peas complimented the curry perfectly. The one thing I miss when I grab a bite from fojol bros. is naan. But for that it would be a perfect meal, but as it is I wouldn't hesitate to recommend this truck to anyone craving a bit of Indian.
As if the food weren't enough of a reason to visit, fojol bros. goes one step beyond the typical food truck to set itself apart. First is the quirky personalities and interesting wardrobe choices of the folks manning the truck. They're friendly and goofy and a joy to converse with. Second the take-out container, napkins, and spork are all compostable (compost waste basket next to the truck). How fojol bros. can find a spork that withstands the heat of their chicken curry where Congress cannot is a discussion for the political pundits. Finally, fojol bros. encourages a leisurely and social meal by parking at local green spaces and supplying blankets where their patrons can dine. This is a good find for anyone looking for some good food and casual dining.